Granny's Scottish Shortbread Cookies
At our house we have a new favorite cookie and that is Granny's Scottish Shortbread Cookies, and yes these come all the way from Scotland.
As we say in Oklahoma, "That's a fur piece away." And I reckon if you winter there you will need a fur piece to keep you warm!
This recipe comes by way of Wendy and her husband Tom, from Scotland. We met them when they stopped by the wagon while we were performing at Silver Dollar City in Branson, Missouri a couple of years ago.
I loved to hear them talk and I told them, one of us had an accent. They became friends of ours and when we shared a sourdough biscuit of ours, Wendy shared her Granny's shortbread cookie recipe. Granny's always know best and we're sure honored to include this into our favorite recipes.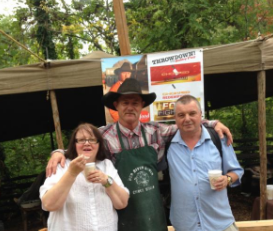 Prep Time: 15 minutes
Total Time: 30 minutes
Makes about 12 cookies
Ingredients
1 stick plus 2 tablespoons unsalted butter, softened 1⁄4 cup sugar1⁄2 cup cornstarch1 cup all-purpose flour
3 (1.55 oz) Hershey's milk chocolate bars
1. Preheat the oven to 350degree F with a rack in the middle. Butter a cookie sheet.2. In a medium bowl, cream together the butter and sugar. Add the cornstarch and beat until smooth.
3. Slowly mix in the flour until combined, but crumbly. With your hands, form the dough into a ball.
5. Turn the dough out onto a lightly floured surface and pat the dough out to about 1⁄2-inch thick. Cut the cookies out with a 2 1⁄4-inch cutter (we use a tomato paste can).
6. Place the cookies on the sheet and bake for about 12 – 15 minutes or until the bottoms turn a very light golden brown, be sure not to over bake. Place the cookies on a wire rack to cool.
7. Meanwhile, fill a small saucepan halfway with water and bring to a boil over high heat. Place a glass bowl over the saucepan (a double boiler). Break the chocolate into pieces and place in the bowl. Stir occasionally as the chocolate begins to melt.
8. When the chocolate has completely melted, pour into a coffee mug. When the cookies have cooled dip them halfway in the chocolate and place on waxed paper. Allow the chocolate to set up before serving.
Tip: Use your favorite type of chocolate, sprinkles, etc.